I've spent the last week thinking about how to put in perspective the lessons learned on this second journey to Rwanda.
The women there think they are learning from us, and I believe they do.  But we learn from them as well.
So maybe I can tell this story of what Rwanda can teach us in pictures.
Let me begin with the obvious:  each country is different, having been shaped by its own history, traditions, geography and natural resources.  The story of Rwanda is worth learning (please go deeper than what you find on Wikipedia and read A Thousand Hills) because while most people associate it with violence and tragedy, this is a country that teaches resilience, pride, forgiveness and redemption.
The nam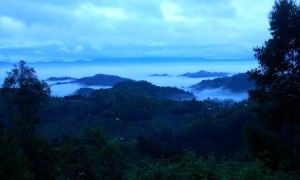 e Rwanda actually means "land of a thousand hills," and as you drive north toward Volcanoes National Park, you can see why.  While it is not blessed with some of the natural resources of its neighboring countries (diamonds, oil, copper) it is blessed with beauty and fertile soil.
What natural resources are you blessed with?  How can you make the most of your inherent gifts, fostering and improving them, until you develop a mastery?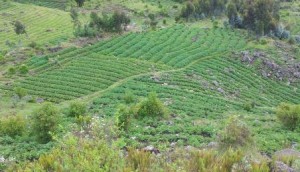 This volcanic base is what makes the land so fertile.  Once outside of the city, lush farms can be seen in every direction.  But farming isn't necessarily easy.  Notice the volcanic rocks to the side of this neatly tended crop.  This work of tilling the soil and removing the rocks is done by hand, mostly by women.  The rocks are set aside, hopefully to be re-purposed – perhaps used to build a fence – or sold which brings the subsistence farmers much-needed cash. What are the rocks in your fertile soil?  Are you willing to do what is hard, to go through the laborious process to remove them, to improve what you grow?  How can you make the most of the rocks that are removed?
When the crops are harvested, they are taken to market.  People who live outside of the city do not own cars, which makes the trip to market strenuous.  This looked like back-breaking work to me, and but I saw people smiling everywhere.  They take pride in their work.  Yet I can't help but hope for a new distribution method to take hold here!
What's the back-breaking part of your business?  Is there a way to collaborate with others to lighten the load?  Are you open to new ideas about how you might do things a bit differently?  Or are you stubbornly attached to what you are doing "because we've always done it that way?"
Once at the market, sales are strictly cash.  The technology for point-of-sale credit card transactions isn't available yet, though hopefully it will be within a year.  Cell phones, however, are quite widely used, so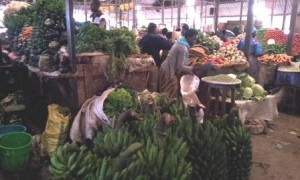 just imagine what the new Square technology will do for these merchants, allowing them to accept credit cards on the spot, using simply a cell phone connection. Are you making the most of any and all new technology that could increase your sales?  How do you stay up with trends in technology?
You can't talk about Rwanda without talking about the gorillas, which are one of the country's beloved natural resources.  President Paul Kagame foresaw that tour
ism could be a major factor in economic development.  Tourists come from all over the world to hike into the Virunga mountains to spend just one hour with the gorillas in their natural habitat.  Of course, for a country to attract tourists, it has to offer services that are up to the standards and expectations of visitors.  The government initiated a national campaign to teach excellent customer service.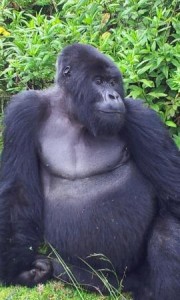 What are you doing to train your staff to provide excellent customer service?  Have you defined what "excellent" means, so that all employees have a shared understanding?
Kigali, the capital of Rwanda, is known for how safe and clean the city is.  Each morning, women sweep the streets of any debris that has drifted into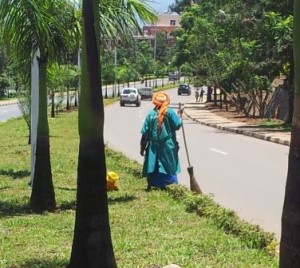 the roads.
Is there a morning ritual you and your staff need to implement, to begin each day with clean and fresh start?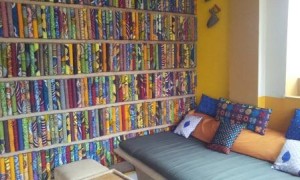 I am tempted to say that I included this photo just because it's so vibrant and colorful.  This is a decorative wall in a charming coffee shop, using small pieces of traditional African fabric to look almost like a brilliant bookshelf.
Beauty and cheer have a value in and of themselves.  Work need not be dreary!  What can you do to make your work world more colorful and cheerful?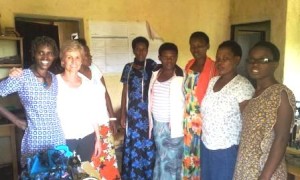 The women of Cocoki sewing cooperative are developing quite a name for themselves.  The women make all decisions together, and have begun exporting their creations to notable retailed in the U.S., such as J Crew and Nicole Miller.
No matter where we are, no matter who we are, no matter what we do, we are connected.  We are all sisters, we are all in this together.  Let's reach out to one another to share wisdom, encouragement and the gift of friendship. 
Take care, d