Nine Specific Steps on How to Hire Great Employees for YOU
You know it's time to hire someone when…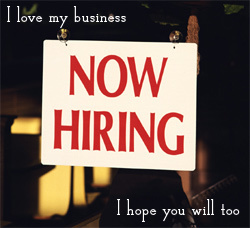 The twenty hats you're wearing begin to fall off (uh oh)
You realize you can't do it all & can't be good at everything (shock!)
Business is good, and you need more hands on deck (congratulations!)
A long-time employee quits and you have to replace her (darn!)
You realize that your company can only grow with better talent (that's actually a good sign)
You're ready to show that unproductive employee the door (finally!)
But we all know that uneasy feeling…
That strange combination of excitement about adding a new team member, soon replaced by dread at the thought of interviewing a stream of candidates, followed by the ultimate fear of making the final decision.
Take the guesswork out of hiring decisions!
Hiring mistakes waste your precious time, money and energy. This 60-minute e-course will teach you how to avoid mistakes and do it right. Learn at your pace, at your convenience. And, the course is yours for life. View it as often as you need to.
This e-course is for you if…
You have ever hired someone and regretted it
Hiring top talent is one of your most important responsibilities
You know you will need to hire soon
You hire based on a gut feeling
You're about to hire your first employee and want to do it right
Here's what you'll get…
Nine specific steps to hiring great employees
A step-by-step, objective process that takes the mystery out of it
Best practices for creating job descriptions, interview questions, checking references, and assessing candidates
Knowledge that helps you get clear on your expectations
Tools that lead to improved employee performance and accountability
Plus a BONUS for you!
Customizable templates for job descriptions and interview assessments (which save you hours of time)
Sample interview questions (which help you feel confident interviewing candidates)
A list of 26 off-limit questions you absolutely CAN'T ask!
You'll get all this for just $79! (The templates alone will save you hours of time!)
Plus…you'll have access to this e-course for life!That's the beauty of e-learning:  you can learn on your schedule, at your convenience.  
Hiring decisions can feel just about as safe as rolling the dice in Vegas
Take the risk out of making costly hiring mistakes. Hire employees with the right skills, experience and personality you need for YOUR business.
Get the right people on your bus — people who contribute to your success (and your peace of mind!).
Learn in less than one hour online what it took me years to discover. Just say, "I'm in!"

P.S.  Here's my promise to you.  With all my training, I offer a 100% money-back guarantee.  No questions, no hassles, no hurt feelings.
A few words from happy customers…
"I know I will benefit from this webinar! I bet some of my friends would too, check it out! Darcie is an AMAZING speaker!" ~April Campbell
"Darcie is a wealth of knowledge and info!" ~Katie O'Brien
"I'll never forget the first time I heard you speak…I really connected to your session and found the confidence to grow my business." ~Angela Byers