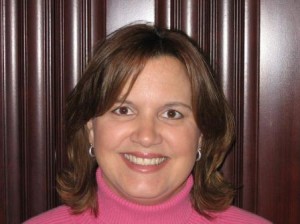 Meet RussAnn Anderson.
It took nearly three years for RussAnn's brilliant idea to become a reality.  I call it brilliant because it wasn't rocket science.  Yet what seemed so obvious, practical and concrete turned into an obstacle course, calling on RussAnn's skills of problem solving, persistence and patience.
When I asked RussAnn what other female entrepreneurs could learn from her experience she said:
Don't let anybody, not anybody, tell you that you can't do it or the doubt will eat you alive
Believe in yourself and your vision because that's what will keep you going
Don't be afraid to ask for help; get over your pride
Don't stop when you hit an obstacle and don't dwell in the direction you were going.  It's a winding curve.
Once you read her story, you'll know why those are the very lessons every female entrepreneur needs to learn.
April 2010
RussAnn gets an idea.  She and her husband have been boaters for years, spending most weekends with their children wakeboarding.  Wakeboarding boats are too tall to fit into a garage or typical storage area.  And most neighborhoods prohibit you (thankfully!) from parking it on the front lawn!
They stored their boat in an airplane hangar – on the other side of town for a mere $400 a month.
One day, RussAnn's husband Michael came home and said, "Good news!  After nine months on their waiting list, a space finally opened up at the boat storage place."
That week, RussAnn & Michael met the owner of the storage unit in the parking lot, and handed over a check for $95, their new monthly storage cost.
RussAnn also owns a Kumon franchise and thought, "You know, my current customers spend about $95 a month on average, and what I do for that same dollar amount is a LOT more work than meeting someone in a parking lot and taking a check!"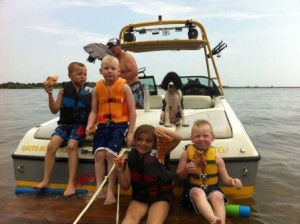 Her wheels began turning.  Build a boat and RV storage complex!  Clearly there was a market, since they had been on a waiting list for nine months.  This business required the work up front to build it, but very little work to run it.  She saw the business as a way to fund an early retirement, with very little effort.
She began her research.  She got online and found a company that hosted trade shows for the storage industry.  She was the only female in attendance!  Impressed with one of the speakers, she hired him to do a comprehensive feasibility study.
The result?  "This is a gold mine," he told RussAnn.  "There is virtually no competition for boat and recreational vehicle storage here."  The few people who did offer a limited number of spaces did no marketing because they always had a waiting list.
As a boater herself, RussAnn knew the perfect location for the storage business had to be near the two major highways that boaters travel to get to the many lakes and near a gas station with an RV dump.   Between internet research and driving the area, she found the perfect place – almost.  It was too much property.  Undaunted, she approached the bank that owned the property and convinced them to split the property into two parcels.
Now she had to decide whether to lock herself into purchasing the property, knowing she would need an estimated $1.7 million more to build the units.
August 2010
RussAnn told me what was unfolding while we were on her EWF Forum retreat outside of Boulder, CO.  She'd have to get a huge loan and raise the down payment in cash.  Between the land and the construction, she thought she'd need about $260,000 in cash.  It would be a huge leap of faith.  I said, "RussAnn, your whole Forum is here together.  Why not use our time before we go to dinner to talk this over with your group and get their input?"
Her Forum agreed it was a great business plan and encouraged her to pursue the deal.  "If I had not talked this through with my Forum, I wouldn't have done this; they gave me courage," RussAnn told me later.  "It's a big leap from idea to execution – that's like the Grand Canyon.   It was getting pretty scary, the thought of signing a huge loan and raising the cash for the down payment."  But RussAnn remembers her Forum members telling her, "You can do this and we will be here for you every step of the way."
September 2010
RussAnn put the land under contract only to discover there were issues with the easements on the property.  That would take time to resolve with the city but it gave her time to look for the financing.  A former banker herself, she put together five 3-inch binders, filled with every piece of information the bankers would need:  a business plan, financial pro-formas, the feasibility study, the land contract, and tax returns.
The months ticked by, with one appointment after another, each bank dragging its feet.  They didn't understand boat and RV storage.  They were gun shy after the traditional storage industry problems back in the late '80's.  They considered the storage building "temporary" because it would be steel, and didn't want to finance it.  No. No. No.
Two banks said they would take a closer look, but only after RussAnn raised the 20% down.  By now, all the raw materials costs had increased and once all the construction bids came in, costs had grown from $1.7 million to $2.4 million.  She'd need to bring a total of $480,000 in cash to closing.  "Everyone told me I needed the cash, but no one told me how to raise it," RussAnn said.
More conversations with her Forum led her to look to family as investors first.  "I didn't like that idea," RussAnn said, "But I just had to get over my own pride."  Fortunate to be from a family of entrepreneurs, her family looked at her business plan and happily agreed to invest.  Those commitments totaled $200,000, less than half of what she needed.
She met with a couple of private equity people, but didn't get any takers.  Someone told her that with family as investors, a filing with the Securities and Exchange Commission would be required.  Several meeting with attorneys and several months later, that turned out to be avoidable, simply by properly structuring the legal agreements with the investors.
As the months passed, she worried that another entrepreneur – someone with lots of cash – would buy the land and build the structure before she had time to raise the money she needed.
July 2011
A family member referred RussAnn to another bank.  She met with the CEO who told her about a new program that allows you to use your own retirement as part of your equity, but there could be tax consequences.  He wasn't clear on the details and referred her to yet another company.
Months went by as RussAnn researched the legal and tax implications of that possibility.  In the meantime, the bank that owned the property resolved the easement issues and was now pressing her to close the deal.  Though she was still trying to raise the entire down payment and her construction loan had not been approved, she and Michael decided to purchase the property.
March through December 2012
RussAnn finally had her down payment raised!  Now it was up to the bank to get the loan approved, both through their bank and through the SBA.  But the bank kept stalling.  After months of being put off and misled by her loan officer, RussAnn had enough.  She went directly to the bank president, armed with a folder of email communication between the loan officer and her.
"I had to get very factual, and all business, but it felt ugly," RussAnn shared.  "It turned out the loan officer knew nothing about how to deal with the SBA.  My intent was not to get this guy fired, but the next day he lost his job."  The bank president assigned her a different loan officer.
But now, the bank said her construction estimates were more than 90 days old, so she had to get new bids for everything.  And (surprise!) the lender told her there was an SBA fee of $50,000 that she had to pay in full up front, and she needed more cash for her down payment because she needed to calculate in her first year operating expenses.  Once again, RussAnn went to her family to ask them for more money.
January 2013
Almost three years later, RussAnn finally closed on her loan!  Her simple idea was about to become a reality.
"We encount
ered so many unexpected obstacles.  Every step of the way I dealt with men who did not take me seriously.  I wasn't used to that.  I just kept looking at the facts, asking myself, what are all the options?  It took me driving this deal forward to get it done."
May 2013
As of this writing, construction has finally begun, which brought new obstacles to face.  Given RussAnn's unstoppable persistence, I have no doubt she'll resolve them and this entrepreneurial venture will be a great success!