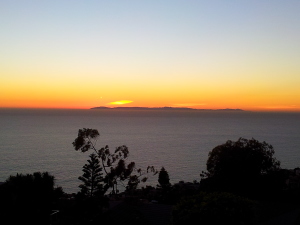 I am writing from my new home in sunny southern California. Yes, I moved! Here's how it all came together.
Fifteen years ago, I met a total stranger when he stepped on to the treadmill next to me at the gym. We began to chat, and within minutes ended up in a very deep conversation about life and work and being faithful to our own inner calling.
He mentioned a book: The Heart Aroused, by David Whyte. Greatly intrigued by his description, I drove directly to the bookstore on my way home from the gym and bought a copy.
I never knew this man's name and never saw him again. But that chance encounter turned out to be life-changing.
David Whyte's book spoke to me in a way no other book had. His words gave me the courage and inspiration to follow my heart and take numerous risks over the last fifteen years.
I just took one more leap of faith. I moved from Oklahoma to southern California, where I grew up and where a part of my heart has remained for thirty-five years.
Each time I traveled here, I felt my heart swell as I saw the blue Pacific, the graceful eucalyptus trees, the red tile roofs of Spanish colonial homes, the brilliant bougainvillea, and felt the warm sun even in December.
"Take any step toward our destiny through creative action and we know intuitively that we are giving up whatever cover we had."
No kidding! I know exactly what he means, and I'll bet you do too. There's no safety and security when we go off the path and explore our own deep and genuine desires.
"In my experience, the more true we are to our own creative gifts the less there is any outer reassurance or help at the beginning. There is a certain early stage when we are left to camp out in the wilderness, alone, with few supporting voices. Out there in the silence we must build a hearth, gather the twigs, and strike the flint for the fire ourselves."
There is an inescapable aloneness when we honor that authentic part of ourselves, no matter how many close friends we have. Some offer well-meaning words of caution. Others may think we're just plain crazy.
But the loudest voice holding us back is often our own. It's the part of us that craves safety and security. Our own interior voice says, "This is too risky. You've got to be careful. Be grateful for what you already have. The grass isn't always greener elsewhere."
I had many long conversations with that interior voice over the last few years, as I contemplated this move. My life was predictable and secure (well, secure is a relative term for any entrepreneur).
But I kept coming back to David Whyte's words
"In effect, if we can see the path ahead laid out for us, there is a good chance it is not our path, it is probably someone else's we have substituted for our own."
I wanted my own path.
I believe life is a never-ending cycle of getting to know ourselves — listening to what energizes us, what brings us joy. To be truly authentic, we must honor those creative and, yes, sometimes radical desires, even when those dreams and desires draw us down a path that looks nothing at all like the paths others have chosen.
"There is surely a place for the strategic mind, the ability to plan, that lays out our every step in advance, but its ability to pay the monthly bills and figure out the social security tax can become an end in itself. What would it be like to link these powers of calculation and strategy with a radical embrace of the creative unknown, to put strategy in the service of soul?"
And so I put my strategic abilities to work, in service of my soul. My soul longed for California. Though I've lived in Oklahoma for thirty five years, I'm a California girl at heart, and that's where you'll find me now (hopefully watching the sunset over the Pacific!).
It only took me fifteen years (since reading The Heart Aroused for the first time) to gather the courage to act! I knew I was giving up the safety and security of the life I'd known for the last thirty five years.
But thanks to David Whyte's words, my soul finally told me I was safe already, safe in my own experience.
I hope my personal story will inspire you to be attentive to the longings of your own soul (and to pay attention to those seemingly unimportant chance meetings!). I hope you'll find the courage to do the work that you truly love and live in a place that feeds your soul.
I'd love to hear your story too! Tell me about it in the Comments section.
Farewell Oklahoma, hello California,

P.S. The only part of this decision I regret is that unforeseen circumstances prevented me from being able to say "Farewell" in person to hundreds of friends, neighbors, clients and business colleagues who have enriched my life and meant so much to me. So plan your next vacation in sunny southern California – we'll get together and watch the sunset over the Pacific!
P.P.S.  My new contact information is: darcie@darcieharris.com www.darcieharris.com 821 Via Alhambra, Suite A Laguna Woods, CA. 92637 405.205.1124