Last week I met with a woman entrepreneur who owned a large business, as well as a large building that houses the business.  As I turned into her parking lot, I noticed a big "For Sale" sign. 
"Wow, she's selling out," I thought to myself.  "I thought things were going well for her, but maybe not."
Turns out things were going very well for her.  In fact, so well she had outgrown her space and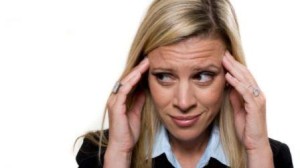 was looking for new property.  What a relief!
But during our conversation, it became clear that she hadn't told her employees she was looking for new property.  Every employee who drove into the parking lot saw that big "For Sale" sign and had no idea what was happening or why. 
Imagine what was going through their minds.  For all they knew, she was selling the entire company.  "Am I going to be working for someone else?"  "Am I going to be out of a job?"
THE FALLOUT
When we don't have information, we imagine the worst.  We invent things, we make things up.   We hallucinate.  For some strange reason, people tend to fill in the blanks — the communication gap — with something negative.    
Just imagine how much anxiety we create for those around us when we don't communicate fully.  Just imagine how much wasted energy and wasted time results.  Just imagine how trust is damaged. 
Whether we have one employee or one hundred employees, we want fully engaged, committed, productive employees, right?   Is it possible we might forget to provide employees with some critical information so that they CAN be fully engaged and productive?  
THE FLIPSIDE
It's not just employees who need forthright communication.  Customers need clear and honest information about what you can deliver and when. 
Contrast the "building for sale" situation with this one:  I hired a branding firm to freshen up my website (stay tuned for a new look soon!).  They promised me they would have a document to me by the end of the day Friday. 
About 10:00 that morning I received an email saying that they noticed something they weren't happy with.  They wanted to change it, but it would be Monday before the right team member could take care of it. 
Wow!  I can't tell you how much I appreciated that email.  Honest, direct, timely communication.  No avoiding, therefore no anxiety and no wondering.  And no damage to my trust in them. 
THE CAUSE
The two most common culprits that cause a communication vacuum?
Busyness – When you wear too many hats and go in a hundred directions, it's easy to overlook communication needs.  But as a leader, communication must be one of your top priorities.  If you're too busy, dig deeper and realign your priorities.  Find small things you can 1) delegate, 2) outsource, or 3) eliminate.  Start with your technology… it's become an incredible black hole we fall in!
Fear — A dozen "what if's" go through your mind as you consider what to say, to whom, and when.  What if they disagree?  What if they get upset?  Don't let fear of someone's reaction stop you from sharing important information.  Emotional needs come out one way or the other.  Be on the front end and know that emotions are the gateway to vitality and better relationships. 
THE SOLUTION
So what can you do to make sure your communication is timely, open, and transparent?  Use these twelve questions as a quick checklist.  Review them before each staff meeting (you are having staff meetings, aren't you?).  In fact, just print them out and keep them handy. 
Who needs to know What by When?
Whose cooperation do I need for this task or project to be successful?
Who will actually carry out the work?
Who will influence the outcome?  This might be someone who is not directly responsible, but someone with technical expertise, like legal or technology advice.
Who will be affected by this decision, this action, this project?
Have I fully communicated my expectations?
Do my employees know where we are going?
Do they know what we need to do to get there?
Are they aware of our values, our processes and our procedures?
Do they understand how they contribute to the company's bottom line?
Is there something I'm afraid of?
What can I do to mitigate my fears?
Remember, when people don't have information, they fill in the communication gap with something negative.  Those negative thoughts create anxiety and damage trust. 
Authentic and transparent communication is the first step to trusting, healthy relationships, both inside your company an out. 
I'd love to see your comments and questions!  And as always, if you know other women who can learn from this, please do share. 
Take care, d