Try this fun experiment with me.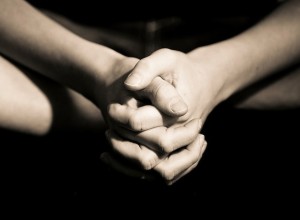 Clasp your hands in front of you.  Notice which thumb is on top, and which pinky is on the outside. 
Now release your hands and clasp them again, only this time put the opposite thumb on top and the opposite pinky on the outside. 
It feels weirdly strange and unfamiliar, doesn't it?
You can try the same thing by crossing your arms.  For me, my left arm automatically goes on top and I really have to work at crossing my arms with my right arm on top.   
Did you have as much trouble with that as I did? 
We are creatures of habit.  We all have things that we've done for years, without thinking about it.  There's no "right or wrong" to it, it's just what comes naturally.
When it comes to running your business, I bet there are things you've done a certain way for a long time.  But as our business grows, we need to grow with it.  And that means we need to do things differently.
That can feel very strange and uncomfortable.  Old habits are hard to break. 
One of the most difficult things for women entrepreneurs to learn is this:  what got you here won't get you there.  (Darn!)
In the start-up stage our businesses are typically… uh…shall we say, unstructured.  Meaning, we fly by the seat of our pants.  We have few systems, procedures or standardized processes.  We make things up as we go along. 
We also do most everything ourselves, at one point or another.  Depending on your industry, it's common to know every single customer personally. 
You know exactly what to do, and you carry every detail around in your head.
That's normal.  And appropriate for a start-up company.
But as your business grows, you get more employees involved – or maybe you out-source certain projects or projects to independent contractors.  You get more customers and there are more people involved in the process. 
Now, in this growth stage, sometimes the left hand doesn't know what the right hand is doing.  Things get disorganized.  Things start to fall through the cracks. 
You have more people coming to you for answers and decisions.  They come to you because nothing is written down.  There are no standardized processes and procedures.  And they come to you because no one else can make a decision. 
Business is good, but life gets crazy.  You're working harder just to keep up.
In this stage, it's very common for the woman entrepreneur to do what she's always done:  apply more steam, press harder on the gas pedal.  Meaning, work even harder.
Don't.    
This is the very stage where you need to recall that little exercise of clasping your hands or folding your arms. 
Now is the time to remember:  what got you here won't get you there. 
It's time to change your leadership style.  And that can feel as strange and uncomfortable as deliberately crossing our arms with the "other" arm on top.
As our businesses grow, we need to grow too.  We have to learn new things, new ways of communicating.  We have to use new tools, new processes. 
Try this:  make a list of the five top skills and abilities that led you to where you are today.  Now ask yourself, what have you been resisting because it feels unfamiliar and uncomfortable?
Those things you are resisting could be exactly what your business needs right now. 
Change can feel strange and uncomfortable.  But that doesn't mean change isn't necessary. 
As our businesses grow, what we need most is the ability to get comfortable with being uncomfortable. 
Take care,

P.S.  Let's have a conversation about this.  Tell me in the comments section below your top five strengths (and what you might be resisting!). 
Coming soon…THRIVE!  How to Get Unstuck and Grow Your Business.  Watch for details…you're gonna love this!