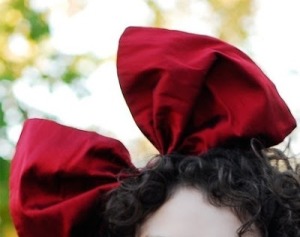 As I sat in the Southwest Airlines lounge waiting to board my plane last week, I noticed an unusual older woman.
She wore a flowered blouse, bright with spring pastels, a long earth-toned plaid skirt and around her neck hung a red knit scarf. Her shoulder length hair was held back with a very big bow.
She looked…well…eccentric. "I hope I don't end up sitting next to her." I thought to myself. I was looking forward to the time on this long flight to read.
If you're thinking that I judged her based simply on her appearance, you're sadly right.
I found a window seat, kept my head down, and my fingers crossed that she wouldn't choose the open middle seat next to me.
She ended up sitting in the row behind me, along with a teenage boy who looked to be about sixteen. I breathed a sigh of relief and opened my book.
As the flight got underway, I heard her speak to the boy who shared her row, just asking him about his travels. I could tell he was reluctant at first, giving short replies. They chatted a bit and she asked him a bit more about himself. When he answered her questions, she would often reply, "Oh, that's interesting. Tell me more."
Bit by bit he opened up. Before long she was asking him about his plans and dreams for his life. And this teenage boy was telling her!
When we landed, the boy and the woman – total strangers two hours ago — hugged goodbye, as though she were his grandmother.
She was warm, kind, and empathic. She had a sweet gift of communication that enabled a sullen, uncommunicative teenage boy to open his heart and his imagination.
And I had judged her.
I hate to admit this, because I think of myself as being open and non-judgmental, but I had made a decision about her based simply on what she wore.
I was wrong. And not wanting to communicate with her was my loss.
That awareness led me to think about how many other times I had decided something, based on incomplete information. How many times had I closed my mind, based on assumptions that turned out to be inaccurate?
And what had that cost me?
Is it possible that you've done something similar, and that it's holding you back in your business or your life?
What are we telling ourselves that may cause us to miss opportunities? What ideas have we become so attached to that we are no longer open to new ideas and possibilities?
Here are four opinions I've heard people share in the last week — opinions they are convinced are absolutely "right:"
Millennials are spoiled, self-entitled and can't contribute anything meaningful to the business world
Connecting on social media is a waste of time
Taking time for networking takes us away from "real" work
Spending money on marketing does no good
Maybe you agree with these opinions, maybe you don't. My point isn't to say these opinions are right or wrong. What I'm interested in, for both you and me, is the possibility of blind spots like my own — of reflective assumptions made without all the information, assumptions that may cause us to miss possibilities.
Seeing this oddly dressed woman, followed by the privilege of overhearing her endearing conversation with a typically sullen teenage boy, reminded me of the importance of staying open.
My commitment to making sure I foster an open mindset involves four steps:
Catch myself when I have a strong reaction to something
Ask myself the question, "What am I telling myself about this?"
Be intentional about opening my mind to a new perspective
Re-frame the issue with a more positive viewpoint
So often we think it's external factors that keep us from what we want, when it might just be our own head trash that gets in the way. That's actually good news! We have control over our own stuff, and can't control what's external.
Here's to new and improved possibilities in 2015!