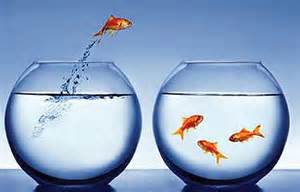 It's been eight weeks now, since my big change — moving to Southern California — and I finally have my head above water.
The most frequently used word in my vocabulary these last weeks has been "change." Moving to another state meant changing literally everything.
From my software to my social life. From my health insurance to my hair stylist (miss you Gary!). From my writing schedule (obviously, since this is my first post in eight weeks!) to my wardrobe (don't need those heavy sweaters now).
The entire rhythm of my life changed. Familiar things are gone. Most things are new and different.
There's an old saying, "When nothing changes, nothing changes. When something changes, everything changes." I definitely found the truth in that statement.
Reflections on navigating change
Change has both positive and negative ramifications.
The downside? I no longer know where to find things in my own home (still haven't found my collection of olive oils and balsamic vinegars from my travels). I don't know how to find places I need to be. I don't know who to call for frequently used services.
So things that were automatic take more time than they did before. And more money. Change temporarily slows you down and change is expensive.
The upside? I love where I live now. I love the climate and the views. I love the intellectual stimulation of new business connections. I'm energized by new conversations and new opportunities. The benefits far outweigh the costs.
Change is both healthy and revitalizing. But more than that, it's necessary. A business that doesn't change with the times or with the market grows irrelevant. A person who doesn't change grows stale and uninteresting.
What changes do you need to make?
As you look to the brand new year of 2015, consider all the changes you may need to make.
Five lessons learned
Consider these five lessons I learned from my big change:
1) Get help. I absolutely couldn't have made this move without the help of friends on both ends of the move. Friends who helped me pack and unpack. Friends who helped me figure out logistics, listened to me think out loud about the hundreds of decisions this change required. Friends who took care of things and took care of me, both emotionally and physically. Professional like my attorney and my bookkeeper who provided expert wisdom. Enlist all the help you can.
2) Break the process of change into themes. You'll feel less fragmented (therefore less crazy!) if you tackle areas with a common denominator. Consider all areas of your business or your life and try to anticipate the consequences of each area. How will this change affect your financial plans and institutions, your technology, your people, your logistics, your vendors, your family? As much as possible, have conversations with everyone involved and ask them for their input. They will likely think of things to consider that haven't occurred to you. Your plan for change will be greatly improved by their input.
3) Make a budget — then double it. Be realistic about the financial cost of change. There can be hidden costs that are difficult to see. While I planned well for the big moving expenses, I incurred plenty that I hadn't anticipated. Small things (like needing to buy new storage organizing gadgets and paying fees to change legal documents) eventually add up. Anticipate as much as you can, but build in a cushion for those unexpected expenses.
4) Have Plan A and Plan B.  I love it when Plan A works out, but realistically it's usually Plan B that becomes a reality. Think through all the "What if's" and be as prepared as you can for the time when what you think is going to happen doesn't.
5) Create space. The change process itself takes on a life of its own. You have to manage that process in addition to all the regular stuff. So create as much space as you can. Get as much off your plate as possible so that you have the margin to deal with the inevitable new tasks and decisions.
Personally, I like change – but mostly when it's my idea! Change can feel scary for those who aren't in charge of it. So you'll need to do some hand-holding.
And even when you're the one driving the change, there may come a point when you ask yourself, "What made me think this was a good idea?" Recognize up front that while the change will create wonderfully positive outcomes, while you're in the middle of it, you will likely feel uncomfortable. Life feels foreign and strange. So you have to resist boomeranging back to what feels familiar. Trust yourself, and create new habits.
Once you do, you'll emerge from the change process re-energized and ready for a new adventure!