I bet it was the Joni Mitchell song I heard that triggered this long-ago memory from the '70's…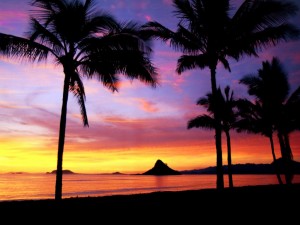 I was in Hawaii with a young man (well, that's a stretch–he was a boy then, he's a boy today) that I'd fallen "madly in love" with when I was about fourteen. His name was Jim St. Pierre (don't you love the romantic ring to that?).
Now I was 20, he was 21. We stayed with Jim's friend who was in the army and had the unbelievable good fortune of getting stationed in Honolulu (instead of being shipped to Vietnam!). Jim planned to stay a few months; I said I could take a week of vacation.
We spent a wonderful week exploring the island (on a motorcycle, of course). The boys were surfers and I loved watching them ride the huge waves on the north shore. We enjoyed tropical showers and vivid sunsets.
This was one of those "good-girl, bad-boy" romances. I was career-minded even then. In fact I was an assistant buyer for a luxury department store in Southern California—the youngest in the store's history. Jim was a…well, let's just say he was a free spirit, interested only in earning enough money to support his surfing and other recreational habits (I'll leave that to your imagination — hey, it was the '70's!).
For a week I was in carefree heaven. But vacations end and soon came the day for me to go home, go back to work, back to real life.
Then Jim asked me to stay.
Could my life get any better than that? I imagined living in this tropical paradise, going to the beach every day, making puka shell necklaces…living a very carefree life.
But I didn't stay. I still remember boarding the plane, with tears in my eyes.
You see, in that moment, at an age when I didn't even have the conscious awareness, let alone the vocabulary to express it, I knew what I really wanted my life to look like.
This was long before people paid life coaches to help them live intentionally, long before we wrote personal mission statements, long before the volumes of self-help books had been written.
Even though I was too young and uninitiated to have a personal life plan, I knew at some level I was making a choice that was congruent with who I am, a choice that fit my values.
So I boarded the plane, went back to my assistant buyer job and I've been a career woman ever since.
What do you really want your life to look like?
I know too many people who are discontent, frustrated with their jobs (or careers), or tired of relationships that drain them. They feel stuck, or perhaps lost, unable to find a path to happiness.
Last week I had a conversation with a friend who has had a difficult four years. An accident interrupted her booming career and left her with constant physical pain, plus a mountain of medical bills. Now, after surgery, which should make a major difference in her health, and an insurance settlement that will get her as close to "whole" as she'll ever be, she's facing big decisions.
It's a little overwhelming.
Where does she want to live? Which career path should she pursue? What is the best investment of her time and money?
Choosing is always more difficult than not choosing, because we have to take responsibility then. But not deciding is also making a decision – a decision to let life take you where it will, instead of being intentional. In the end, it's avoiding responsibility.
It's easy to get lost in wondering what the "right" decision will be. But there are no right or wrong answers. You get to decide what you want your life to look like. Your answer might be different than mine. You may have stayed in Hawaii!
It's also easy to get stuck in feeling like you've been shortchanged. That's a sure recipe for unhappiness. I can't remember who said this (if I did I'd give them credit): "You must have wanted what you have because you chose it."
That's a tough fact to face, because it's easier to see ourselves as victims of life's pitfalls, accidents and tragedies. But in the end, we always get to choose, even if our only choice is HOW we respond to misfortunes that we all encounter.
Don't make it harder than it needs to be.
My friend will make the best decisions for herself if she'll answer these questions:
What makes me happy?
What feeds my spirit?
What do I really want my life to look like?
I hope you'll make your life the work of art that you desire. Just be faithful to who you are and faithful to your own values.
Choose.
Take care,

P.S. Yes, I still have a bit of that carefree, adventurous spirit in me. As you read this, I'll be enjoying two weeks of carefree heaven, exploring the coast between the French Riviera and Barcelona. And then I'll come back to work, just like I did in 1973. Because that's really what makes me happy.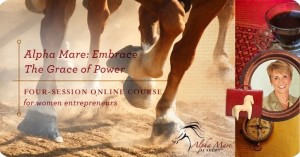 P.S.S. If you'd like some guidance on deciding what you really want your life to look like, you'll enjoy my e-course, The Alpha Mare: Embrace the Grace of Power.  It's a deep exploration into discovering who you are, giving up the stories that keep you stuck and uncovering your most authentic self.